Read Time:
4
minutes
Creating a successful in-person event requires careful planning and execution, but it's a fantastic way to connect with an audience in a meaningful way. At IN2communications, our goal is to help our clients shine and to deliver unforgettable experiences that showcase their brands and leave attendees feeling inspired and energized!
We were proud to be asked to help our client Windstream Wholesale execute their Sales Kickoff in Nashville, Tennessee. Using this event as an example, below are the event marketing strategies and tactics that we used to make the event a standout success. From the buzz-building pre-event marketing to the engaging on-site activities and follow-up after the event, every element was critical to the success of their Sales Kickoff.
Let's dive in!
Before the Event
From developing the theme of the event to creating a catchy logo and crafting a comprehensive strategy, every detail counts. Simply put, the pre-event development stage is where the magic happens! It's where we channel our creativity and expertise to create a lasting impact that resonates with attendees long after the actual event is over. We designed a captivating theme and event logo for Windstream to capture the nature and tone of their Sales Kickoff and launched a comprehensive email and social media awareness campaign to create excitement about the upcoming event.
During the Event
We created daily highlight reels to capture the most memorable and impactful moments of the conference and designed custom videos, signage and on-stage visuals to provide compelling and engaging content throughout the event.
Small touches can also go a long way in creating a positive and memorable experience for attendees. For Windstream, we created custom gift bags, table stands and themed shirts and cowboy hats to go with the Nashville country vibe. We even created an event theme song!
Examples of Kick Off Visuals and Giveaways
After the Event
After the event, we made sure to stay in touch with the team. We created a social media series to keep them engaged and sent them a feedback survey to find out what went well, and where things could be improved. We also sent follow-up emails to keep the momentum from the Kick Off going!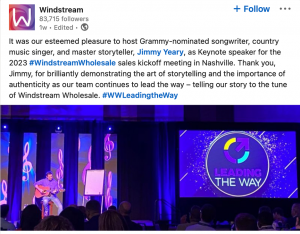 The Result
The Windstream Wholesale sales kick-off event left their team full of excitement and motivation! We wanted to extend the event's positive energy, so we created fun and engaging content for the team to share on both the company and personal social media channels. This initiative helped Windstream Wholesale expand its reach, and the increased visibility got everyone talking about the brand.
With these tips and tricks in mind, we hope you're now ready to bring your next in-person event to life, leaving your attendees with unforgettable memories and creating a positive impact for your brand!
About IN2communications
IN2communications is an award-winning digital marketing and web design agency helping hundreds of B2B organizations create awareness, boost consideration rates and generate sales leads.
Our awesome team provides experienced expertise in the following areas: Creative Strategy, B2B Campaigns, Web Development, Video Production, Social Media, Paid Advertising, SEO, Email Campaigns, Blogging, Presentations, Webinars and remarkable Content Creation.